What's a Ring Sling?
Baby Brendan, 2 days old!
Probably the most widely available and well-known sling, a ring sling is worn like a sash over one shoulder and the opposite hip, and the fabric is threaded through two aluminum or nylon rings and a tail hangs down. The baby sits in a pouch created by the fabric. There are many different carrying positions for a sling including tummy to tummy, cradle hold in two directions, hip carry, front facing out and on the back.

I know a lot of people that swear by their mei tais and won't use anything else and I love my mei tais too. But I find myself reaching for a ring sling when I'm finishing up dinner or just need five more minutes to get the laundry done and don't want to mess with tying on a mei tai. Because it is so easy to pop a baby in and out of a ring sling, they're great for running in and out of the store or dealing with an "up and down" toddler, and they are by far the best carrier for nursing a newborn. It's also possible to put on a ring sling with one hand while holding a baby, even a sleeping one, whereas you have to put down the baby or get someone to help you put on a mei tai. I also like using a ring sling at church as it is a little fancier than a mei tai, and again, if the baby gets fussy, you can immediately pop the baby in and settle them down without disturbing everyone. I'm also able to nurse a little more discreetly in a ring sling than I am in a mei tai. It's my personal opinion that between a mei tai and a ring sling, you'll be set for any carry you want to do from newborn to toddlerhood and beyond.
---
Pros

Easy to put on and use

Great for popping baby in and out

Wonderful for newborns

Best carrier for nursing

Infinitely adjustable

Many different wearing positions

Baby can easily transition well from laying down to nurse to upright and vice versa

Baby in the front means you can see what he/she is doing

Can put it on with one hand while holding baby

Can be used as a blanket, changing pad, sun covering, burp cloth, etc.

Can be used from newborn to toddlers




Cons

One shoulder carrier can cause discomfort after long periods with heavier babies

Harder to carry a toddler for long periods

Slight learning curve to fine-tune the fit

Not great as a back carrier

If mom and dad are drastically different sizes, may need to order separate sling
Powered by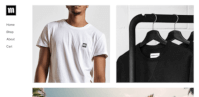 Create your own unique website with customizable templates.